Silicon Solutions GrafTrak and Silicon Ephemeris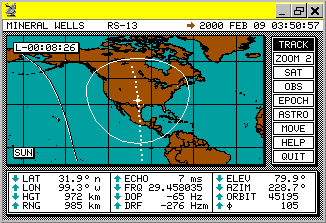 Joe Bijou, WB5CCJ, and Richard Allen, W5SXD, are pleased to be able to provide our users and the satellite community with new Y2K compatible versions of Silicon Solutions satellite tracking software. These programs are free to be downloaded and used by anyone. If you feel you need to send money, make a contribution to AMSAT. We had a lot of fun doing this project over the last 15 years and although, in 1985, we did not anticipate the Y2K problems, we want to support any folks out there that may still use our programs.
ssi-2.exe   Y2K fixed Silicon Solutions GrafTrak programs (self-extracting .exe file, ~500 kb) These programs have been fixed for year 2000 assuming that NORAD/NASA keep their current element file format (which they appear to have done). They are provided at no charge to anyone who wants them. This file may be upgraded if required. Revision history follows:
4.00 ssi.exe 1999 November 16 - initial y2k release
4.01 ssi-1.exe 1999 December 2 - minor cosmetic changes
4.02 ssi-2.exe 2000 February 1 - fixed bug in printer headings in SEPH
To install, save your current versions first. You can then run the ssi*.exe self-extracting archive which will replace older versions with the newer ones. If you have no previous version, save the archive in an empty directory and run it there. It will self-extract. You will then be ready to setup the programs according to the manual.
Since this software was made available late in 1999, many old and new users have requested that the manual be provided. Andy MacAllister, W5ACM, volunteered to convert our ancient WordPerfect files and screen dumps into a more modern Acrobat format. You can get the Acrobat Reader through the link provided below.
gtman.pdf   This is the original manual. It is an Acrobat file and may be viewed and/or printed using version 3.0 or newer of the Acrobat Reader. It is about 700 kb in size and 120 pages long. There have been quite a few additions that never made it into the manual. We are planning on documenting these and providing an addendum at some later date.
Several places in the manual are outdated, specifically those related to obtaining element sets. The Internet was not widely used in the 1980's. Today, there are many good sources. Subscriptions may be had from AMSAT, the ARRL, and others. T. S. Kelso's Celestrak has replaced his old bulletin board service. The Hamnet section of CompuServe is also still providing element sets. The standard NORAD/NASA two line element sets or the AMSAT format elements may be used. Elements may also be entered manually.
Since the clocks rolled over to 2000 last year, I have been testing the Y2K fixes. I observe and check satellite rise and set times making sure that acquisition and loss of signal occur at about 1/2 degree below the horizon. I also observe and check Doppler shift calculations by tracking beacons in a narrow cw filter with the transmitter or receiver being controlled by GrafTrak. I've seen no anomalies and believe that all is well with the code. The Lunar and Solar calculations were never Y2K afflicted and still work properly.
Flash! Run GrafTrak under Windows CE!
This software has been run on many flavors of pc over the years. It was originally developed on an original IBM XT that ran at about 5 MHz with eight bit wide busses. I run it on a HP-100LX palmtop and several others have run it on 80x86 type small machines. Don DeJarnette, KC4YRT, has provided instructions on how to run it on many of the current palmtops that don't even use an 80x86! Check it out! I guess it's time for a new pocket machine!
Any questions may be directed to me at W5SXD@amsat.org or to the eMail addresses in the program start-up screens.

Please join and support AMSAT ...
updated 2002 May 18, Richard Allen, W5SXD, AMSAT Life Member 282